Ever noticed the messages that are shown when you tapped on or off with your Opal card and wondered what they meant? Are curious to find out what that error code number means?
---
Tap on is successful and entry permitted.
Remote top up (including auto top up) collected by presentation of card.
Opal card balance displays.
---
Fare deducted at tap off and exit allowed.
The reader displays the :
– Remote top up or auto load value activated by presentation of Opal card
– fare paid for the journey
– remaining Opal card balance
---
Balance too low
Tap on is not successful as Opal card balance is below the minimum required to tap on

---
Please wait to exit

Displays when an Opal card is presented at a gate in exit mode within 15 seconds of tap on at a date in entry mode at the same location.
---
Already Tapped On
Error 55 displays when second tap occurs within first tap on (with a gate in entry mode, or at an undated station)
Error 56 displays when second tap occurs at same location within 15 seconds of first tap on (ungated station)
Error 59 displays when a second tap occurs at same location within 10 minutes of first tap on (applies only when gate is in entry mode)
---
Already Tapped Off
Error 57 displays when a second tap off occurs within 2 seconds of first tap off (gate in exit mode or at ungated station)
Error 60 displays when second tap off occurs at same location within first 10 minutes of first tap off (gate in exit mode)
---
Card not valid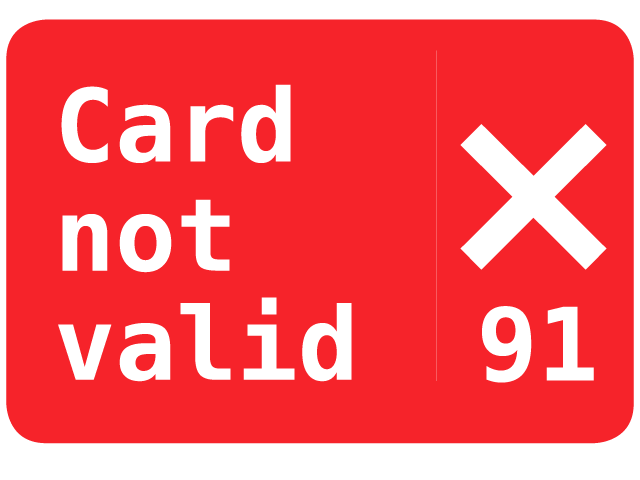 Error 53 – disabled (current hotlist or previous hotlist)
Error 80 – location does not accept card (during transition)
Error 52 – test card in revenue
Error 51 – revenue card in test
Error 91 – unknown card type
Error 92 – card directory is corrupt
Error 93 – card contents corrupt
Error 85 – unspecified card reader or smart card error
Error 90 – digital seal is corrupt